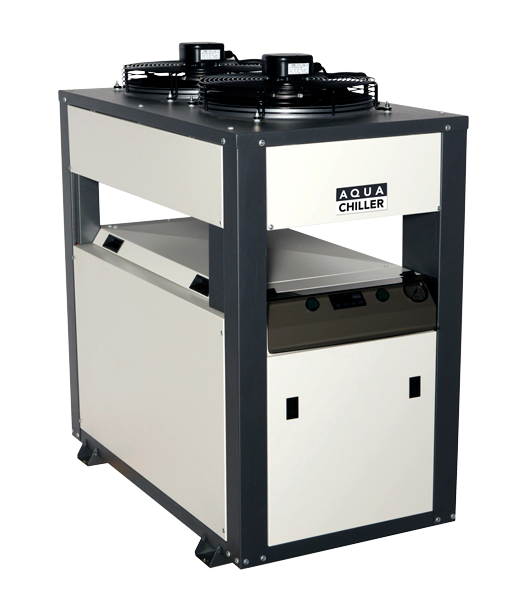 R Series Chillers
Premium general-purpose range of chillers.
Aqua Cooler R Series chillers are manufactured from the highest quality components supplied from the industry's leading suppliers and are designed to run efficiently with low maintenance.
View Brochure
Get A Quote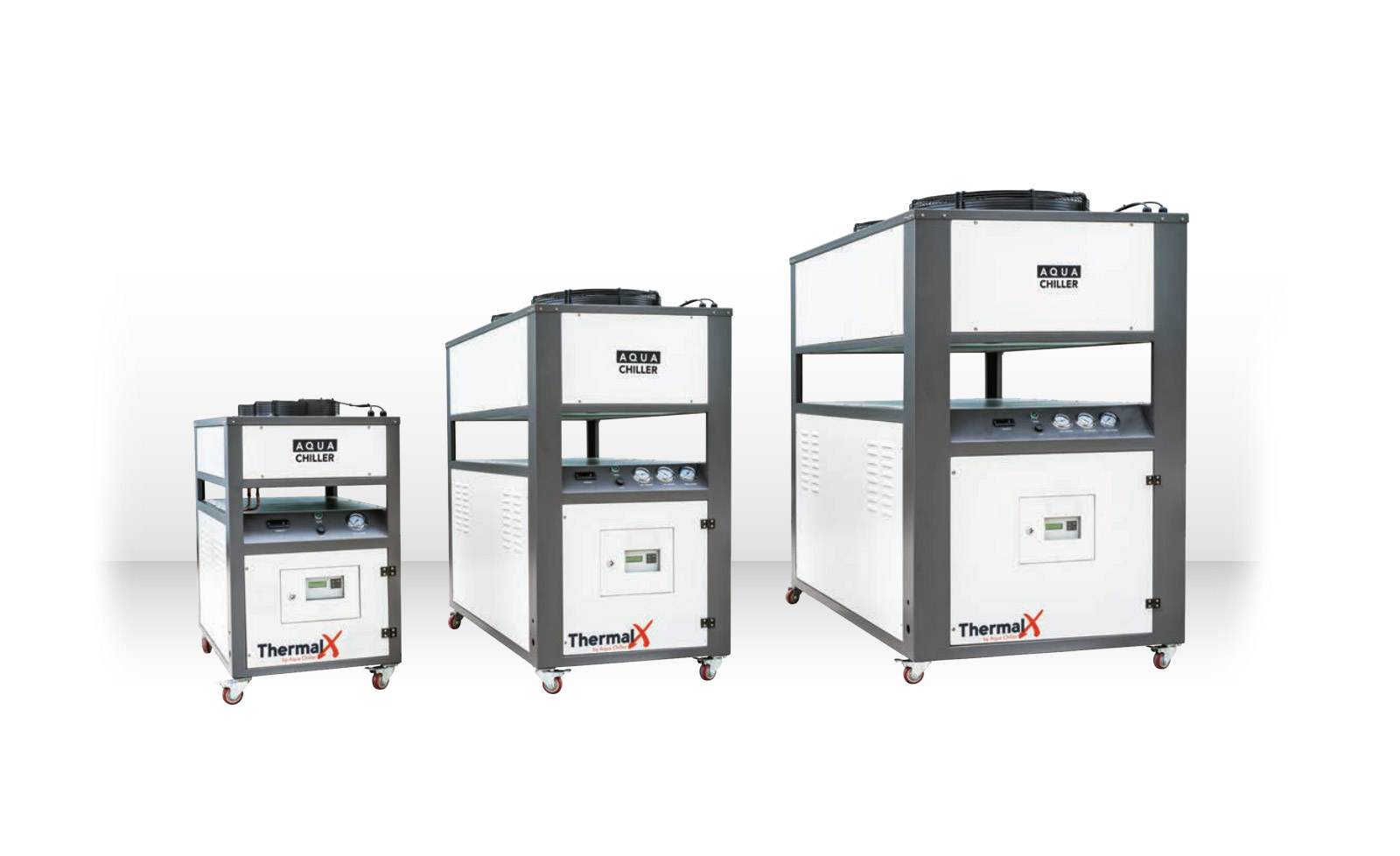 Key Features
All-weather durability – Rugged, powder-coated, galvanised steel construction chassis and all components on the chiller are rated to be in the weather. The electrical enclosure is IP55 rated
Buffer Tanks – All chillers up to 50kW have integrated, self-insulated buffer tanks
Pumps – Aqua Cooler chillers are supplied with integrated supply pumps sized for customer specifications
High efficiency scroll compressors from the industry's leading suppliers for durability and longevity
Warranty – Comprehensive 12-month warranty on all parts and labour
R Series Range
Aqua Cooler has built a reputation for building reliable chillers suited to high ambient temperatures and operation in remote location. The R-Series chillers epitomise Aqua Cooler's philosophy of creating a fully packaged robust unit you can plug in and forget about. All R-Series chillers have their own buffer tank and circulating pump enclosed in a powder-coated casing.
Based on a lifetime of experience, the R-Series chiller has been engineered to handle the toughest conditions from mines supplying chilled drinking water to a whole shift, to the precision requirements of a laboratory or hospital servicing critical equipment.
Aqua Cooler chillers use leading edge condenser technology on its air-cooled units. The coils are manufactured using a coil pattern that provides higher capacities, lower refrigerant charge weights and higher functional efficiency than other heat pumps on the market.
The triple 7 pattern works so well due to 2 factors – the 7mm tube diameters are among the smallest in the market and the equilateral tube arrangement which creates equal distances between each tube and its six adjacent tubes. Both features result in more tubes per fin cross section and this means more primary surface area. This combination of tube diameter and equilateral tube arrangement results in higher capacity and lower refrigerant charge.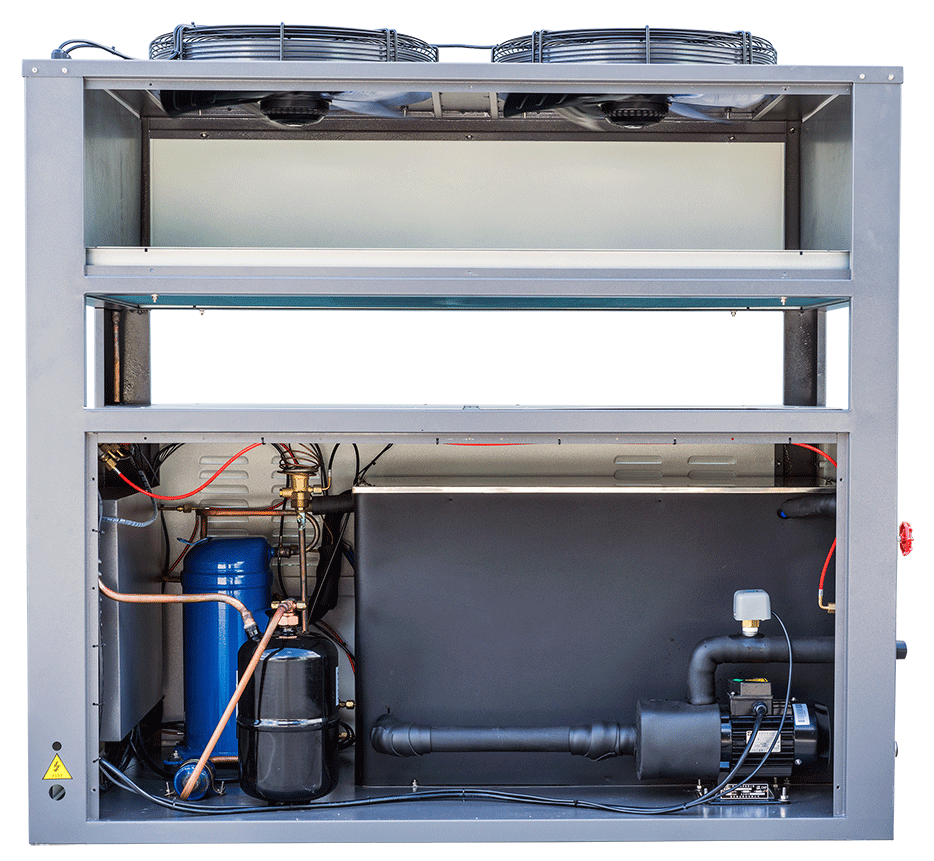 Smart PCB Controller
The advanced PCB controller is standard with all R Series chillers. It allows benifits such as multi-chiller control allowing redundancy, remote start / stop, performance monitoring, BMS connectivity, and a wide array of parameter control settings.
Compressors
R Series chillers compressors bring you long lasting reliability and durability with exceptionally high standards of quality. R Series chillers use world leading compressor brands such as Emerson and Danfoss.
Chilled Water Circuit
R Series chillers are equipped as standard with an internal buffer tank. Internal buffer tanks ensure that temperature remains consistent under varying loads.
Enclosure
The stylish and practical R Series structural enclosure is robustly constructed with a rigid frame, powdercoated galvanised aluminium panels and heavy-duty castors. It is divided into two sections to ensure optimum airflow through the condensor. The R Series enclosure is designed for indoor or outdoor installation
Condensers
Aqua Chiller uses a custom-designed and manufactured condenser in the R Series of chillers. The enclosure's split design offers high efficiency by ensuring optimum airflow through the condenser. The R series uses advanced hydophilic coating on the condenser and has the option of e-coating for extreme environments. Remote condenser options available.
Pumps
A range of pump options are available for the R Series chiller. All of which are sourced from highly reputable and market leading manufacturers. R Series chillers can optionally be used with an external pump if required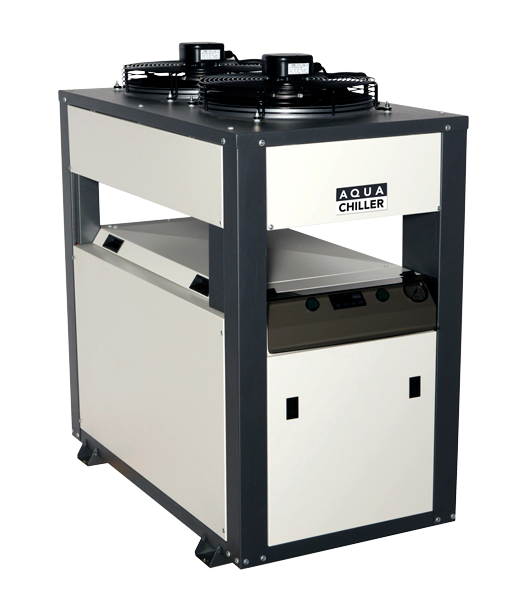 R Series Options
Aqua Cooler chillers have numerous options available to allow the chiller to be constructed to meet customer specifications:
Controller / Thermostat High – Aqua Cooler chillers are available with a state-of-the-art microprocessor controller. The controller allows the chiller to be connected to the internet to allow remote monitoring and control. The chiller can also communicate with the BMS using Modbus and BacNet protocols without the need of a gateway. The controller is also monitoring pressures in the refrigeration system, water flow and supply and return water temperatures allowing very accurate control of the chiller and makes it suited for the process it is cooling. The software is also configured to allow two chillers to be set up in tandem to allow load sharing, N+1 redundancy and duty cycling. The chillers can also be connected to an Aqua Cooler central chiller management system and be controlled remotely in installations where more than 2 chillers are installed.
Low noise operation for environments where operational noise is an issue, Aqua Cooler can supply a unit with compressor soft start, compressor hoods and low noise fans.
Potable water supply – potable water can be supplied for food preparation or machinery sensitive to water quality.
Close tolerance water supply temperature – the units can be supplied with an unloading valve on smaller units or a VFD on the compressor on larger unit to allow the chiller to maintain close water temperature tolerance.
Condenser coil protection – Super Hydrophobic coating to resist water and prevent coil corrosion – 3000-hour salt spray tested for installations in corrosive environments.
Remote condenser – For installation where space is critical the condenser can be installed remote to the chiller.
Flood back – For installation where the chiller is on a different level to the process, the chiller can be hydraulically isolated for when it shuts down preventing water in the pipe run flooding back to the chiller and overflowing the buffer tank.
Component Origins
Components used in Aqua Cooler heat pumps are sourced from the industry's leading suppliers.
| Component | Country of Origin |
| --- | --- |
| Fans | Germany |
| Compressors | Thailand, France or Singapore |
| Heat exchangers | USA, Sweden or Germany – model specific |
| Switching equipment – contactors, thermal protection, phase failure and transducers | Sweden or France |
| Condensers (air cooled) | Israel |
| Expansion and solenoid valves | France and Japan |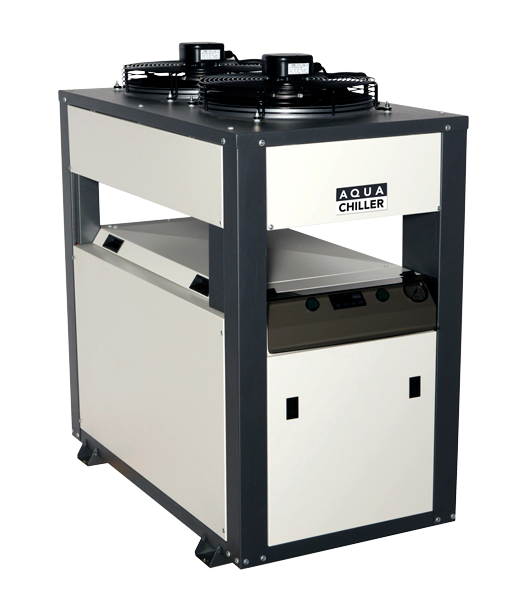 Advanced Chiller Monitoring Solutions
Refrigeration trouble frequently happens when no one is looking. Let's face it, you
have better things to do. But what if modern technology could be applied to your
refrigeration system? What if you could automate the monitoring of the entire system
and have the power to know exactly what's going on, all the time. Now you can!
Move from reactive refrigeration maintenance (breakdown maintenance) to Reliability Centered Maintenance (RCM) with monitoring and cut cost by up to 66% per year.
Costly outages are now a thing of the past! Our monitoring system lets you know the moment your refrigeration system needs attention, well before expensive repairs, spoilage and waste occur.
Leaks happen and are frequently found way too late. Replacing refrigerant is costly. With Our monitoring system you find leaks early – before they cause real trouble.
Works With All Aqua Chillers
Thanks to advances in technology, every Aqua Chiller installation, new or existing, can now be made smart.