H2ONow Chiller
Underbench Water Cooling System
Aqua Cooler Under Bench chillers sit out of sight and deliver a steady supply of chilled water to a tap or faucet above the bench. Under Bench units are a great alternative to keeping jugs of water in the fridge, and with an optional filter, they can provide chilled and filtered water on demand at any time.



Get A Reseller Quote
Buy Retail Online
Key Features
5L/h chilled water output
Simple to use, with automatic shutdown.
Specifically designed for space-saving, under-bench installation.
Fully insulated to achieve maximum energy efficiency.
Easy filter replacement with a single twist.
12-months standard warranty.
Full range of replacement parts.
H2O Presto Chiller Range
H2OPresto Chiller remote drinking water systems delivers 5L/h of water at 10 °C cooled from 27 °C inlet water at 32 °C ambient. The evaporator uses copper evaporator tubes on stainless-steel water storage tank, both of which are encapsulated in insulation. The R-134a refrigerant system is hermetically sealed and the refrigerant is capillary-tube controlled. An adjustable thermostat having an off position controls the refrigeration system.
Model Selection Chart
Unit Only
H2OP-CHILL-WHT
Unit with Filter Kit
H2OP-CHILL-WHT-F
Unit with Filter Kit and tap
H2OP-CHILL-WHT-F-T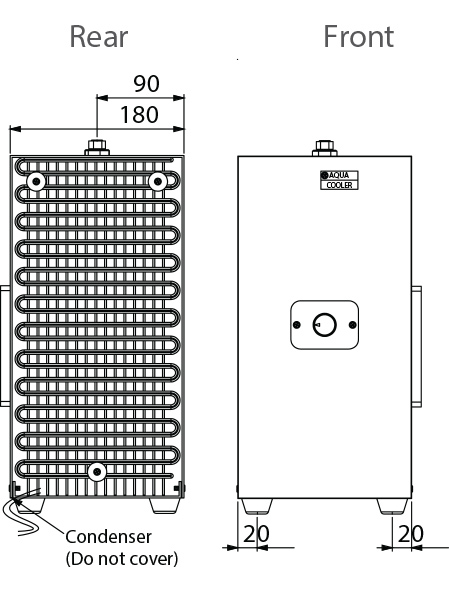 H2O Presto Chiller Specifications
Cold water
Water inlet
1/4" quick connect fitting
Water outlet
1/4" quick connect fitting
Tank capacity
4L
Tank material
Stainless steel 304
Refrigerant
60g R134a
Electrical
220 - 240V 50Hz
Power
150W
Weight
12 kg
Max Pressure
400kpa
Min Pressure
20kpa
Dimension
18(W) x 31.5(D) x 38(H)cm
Warranty
Twelve-month comprehensive coverage