Cascade Series
Premium Mains or Bottle Connected Water Coolers
The flagship Cascade range of water coolers are both stylish and performant. The lustrous design compliments contemporary kitchen and break room decors. It offers the advanced feature of transferring between bottled and mains-connected with the flick of a switch.




Get A Reseller Quote
Buy Retail Online
Key Features
Change between mains connected and bottled with a flick of a button.
High impact polymer housing parts.
Hidden bottom loaded bottle for easy installation.
Hot, cool and cold in a single unit.
Stainless-steel reservoir and hot tank.
Easy-to-clean, dishwasher-safe drip tray.
Cascade Range
Another unique feature that separates the Cascade from other coolers is its three dispensing modes: cool, cold and hot in a single unit.
Cascade boasts an output capacity of 5.1 L/h cold water and 7.9 L/h hot water. The high impact polymer on top, base and front panels offers the unit a durable housing to extend its lifespan and keep it looking smart for longer.
Aqua Cooler provides a full range of replacement parts, local service and support along with twelve-month standard warranty and twenty-four-month additional refrigeration circuit warranty.
Aqua Cooler water coolers are manufactured from the highest quality components supplied from the industry's leading suppliers and designed to run efficiently with low maintenance.
Model Selection Chart
Hot, Cool & Cold
Filtered*
CDTTF
Not Filtered
CDTT
* Filtered models are supplied with filter upgrade kit.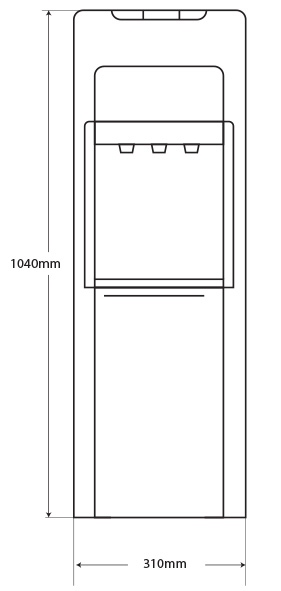 Cascade Specifications
Water Reservoir
Cold
3.3 L
Hot
1.1 L
Housing Material
High impact polymer top, base and front panels
Refrigeration
Uses R134A refrigerant
Water Connections
Water Inlet
1/4" quick-connect tube fitting
Thermostat Control
The thermostat is factory set
Capacity
Cold
5.1 L/h
Hot
7.9 L/h
Power Consumption
545W
Electrical
220-240V, 50/60 Hz
Weight (Packed)
18kg
Dimensions (Packed)
360 x 390 x 1015 mm (W x D x H)
Container Capacity

20 ft

180 units
40 ft
438 units
Warranty
Twelve month comprehensive coverage and three year compressor replacement.