WM Series
Wall-Mounted Mains-Connected Drinking Fountains
The Aqua Cooler WM Series is a wall mounted and specifically designed drinking fountain for areas where floor space is restricted or for small spaces, the WM Series is ideal for easy access by people in wheelchairs or for children.



Get A Reseller Quote
Buy Retail Online
Key Features
19 L/h max cooling.
Can be mounted at different heights on the wall.
Fitted with an industrial grade stainless steel tank.
Robust construction to ensure longevity.
Polished stainless steel top.
Optional stainless steel cabinets.
Adjustable, tamper-proof, non-squirt bubbler and glass filler.
WM Series Range
With anti-finger print proof coat on stainless steel panels, this elegant water dispenser fits marvelously to a multitude of places: modern kitchen, spacious living room and simple office room. Serving fresh distilled water or hot water for your preference.
All of Aqua Coolers water coolers are manufactured from the highest quality components supplied from the industry's leading suppliers and are designed for high efficiency running and low maintenance.
Model Selection Chart
Bubbler
Bubbler & Glass Filler
Powder Coated
WM4
WM5
Stainless Steel
WM4SS
WM5SS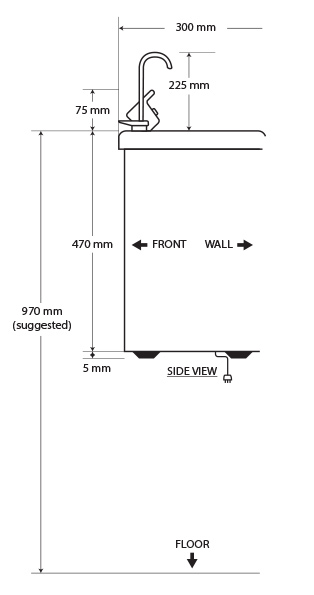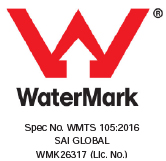 WM Series Specifications
Water Reservoir
0.5 L water tank is fabricated from sealess hard drawn copper which is tin plated for safety.
Refrigeration
Uses 170 gm of R134A refrigerant which is non-toxic, non-flammable and environmentally sympathetic.
The refrigerant flow is controlled by a capillary tube, which has no moving parts. To give maximum heat
exchange a suction line is fitted.
Water Flow Controls
The bubbler is rated to supply 1.7 L/m at mains water pressure of between 140 and 700 kPa. An automatic,
self-regulating control is fitted to overcome varying mains pressure.
Water Connections
Water Inlet
1/2" male B.S.P.
Water Outlet
5/8" B.S.P.
Thermostat Control
The thermostat is factory set
Compressor
1/8 HP capacity, 90 W - The compressor is hermetically sealed for silent running.
Capacity
8 L/h

Electrical

220-240 V, 50/60 Hz
Performance to ARI
1010-94 Standard
Water Inlet
26.7 ºC
Water Outlet
10 ºC
Ambient Air
32.2 ºC
Weight (Packed)
31 kg
Dimensions (Packed)
300 x 300 x 550 mm (W x D x H)
Warranty
Twelve month comprehensive coverage and five year
compressor replacement