Odyssey Series
Economical Bottled Water Coolers
The Odyssey Series offers unparalleled value in bottled ambient-and cold drinking water dispensers. The modern cooler is the perfect unit for family homes, renters and small-offices all year round.



Get A Reseller Quote
Buy Retail Online
Key Features
2.5 Litres Per Hour.
Stylish front facade made from high quality materials.
Easy-to-use taps, only one hand required.
Food-grade, stainless steel water contact tubes.
Durable polypropylene, self-closing taps.
Easy-to-clean, removable drip tray.
12-months standard warranty.
36-months refrigeration circuit warranty.
Odyssey Range
The Odyssey Series is a free-standing unit available in ambient and cold configuration. The series has a 2.5 L tank and is an excellent choice for any application, dispensing 2.5 L of cold water per hour.
The cooler is created from high quality materials including food-grade and stainless-steel water contact tubes. The durable plastic, coupled with steel side panels for strength makes this unit perfect for home and small office use.
The Odyssey range is covered with a twelve month standard warranty and additional twenty-four month refrigeration system coverage. A full range of replacement parts are available to keep the unit in operation for longer.
Model Selection Chart
White
ODYBCC-WHT
Black
ODYBCC-BLK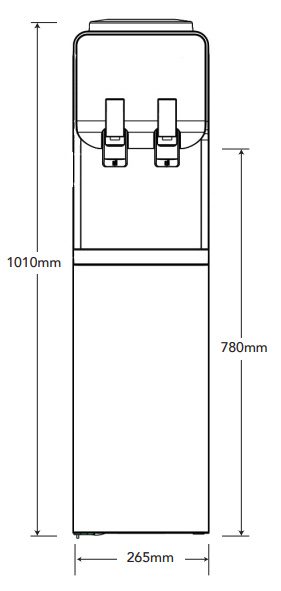 Odyssey Specifications
Water Reservoir
Cold
2.5 L
Housing Material
Plastic
Refrigeration
Uses R134A refrigerant
Thermostat Control
The thermostat is factory set
Capacity
Cold
2.5 L/h
Power Consumption
Bottled
Cooling
85 W
Electrical
220-240V, 50/60 Hz
Weight (Packed)
Ambient & Cold
15 kg
Dimensions (Packed)
360 x 290 x 1035 mm (W x D x H)
Container Capacity
Bottled
20 ft
238 units
40 ft
490 units
Warranty
Twelve month comprehensive coverage and three year compressor replacement.